Well Child Visits & Immunizations
Well Child Visits
Well Child visits are an important part of your child's health. It helps your doctor get to know your child and family and develop a relationship with you that leads to better health for everyone. Children grow up and change quickly, so each well visit is a little different.
What Happens at a Well Visit?
Each visit includes a complete physical exam. Your child's height, weight, and head circumference are recorded on a growth chart. Talking about your child's growth is a good place to begin a discussion about your child's general health. Infants growth centers much around diet, and as your child ages, exercise as well.
Hearing, vision, mental health and other screening tests will be part of some visits.
Even if your child is healthy, there's still a lot to talk about. Safety, discipline, potty training, sleep, school, and extracurriculars are just some of the many things you will touch on with your doctor. Talking about ways to improve care and prevent problems helps keep your child healthy.
If your child has a health need, we will review medications and referrals as well. This helps us make sure your child is getting up to date care. At Milestone, we make sure to know the whole child which includes review of their medical care at the ER, urgent care, or specialist office.
Well Visit Schedule
After your baby is born, the next visit should be 1 to 2 days after bringing the baby home.
After that, it is recommended that visits occur at the following ages:
2 weeks
1 month
2 months
4 months
6 months
9 months
12 months
15 months
18 months
2 years
2 1/2 years
3 years
Once a year until age 21
We also do 6 month follow-ups in between well checks for certain conditions like mental health (e.g. ADHD, depression, anxiety) and asthma. Routine follow-up on certain conditions helps keep things on track.
---
Vaccines/Immunizations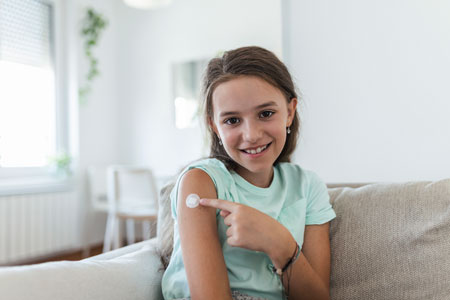 Vaccines are important to lifelong health. At Milestone we make sure to explain the vaccines being given at every visit, so you can feel comfortable that your child is fully protected. We have chosen a vaccine schedule that covers everything your child needs in as few "pokes" as possible. We also offer an annual flu vaccine after 6 months and the COVID vaccine as well.
Vaccines help protect against many diseases that used to be much more common. They reduce the number, contagiousness, and severity of infections that are dangerous or life threatening.
Examples include tetanus, diphtheria, mumps, measles, pertussis (whooping cough), meningitis, and polio. Because of vaccines, many of these illnesses are now rare.
Vaccine Schedule
Our vaccine schedule is in line with what the CDC and ACIP (Advisory Committee on Immunization Practices) recommends. See the CDC's vaccine schedule at https://www.cdc.gov/vaccines/schedules/hcp/imz/child-adolescent.html.
Easy to Read Vaccine Schedules
COVID and Flu Vaccines
The COVID vaccination is available and will be discussed at your visit as recommendations continue to change and vaccines are becoming more available for children.
Flu shots are typically available from early September through April depending on the flu season. The first year your child will need two separate doses one month apart, and then every year after that only one. Flumist (a nasal spray instead of a shot) is offered for children over the age of 2.