Nutrition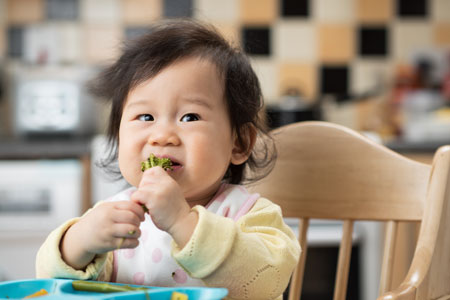 A healthy diet helps children grow and learn. It also helps prevent obesity and weight-related diseases, such as diabetes. Nutrition starts as early as deciding between breastfeeding, formula, or a combination of the two. We support breastfeeding moms, but also understand that some situations call for formula.
When infants become toddlers, snacking and treats become a near daily discussion. We will help you focus on getting what is required, such as iron, calcium, and fiber.
To give your child a nutritious diet
A child's plate should be half fruits and vegetables.
Choose healthy sources of protein, such as lean meat, nuts, and eggs.
Look for high fiber foods. It is higher in fruits and vegetables; low in processed foods.
Broil, grill, or steam foods instead of frying them.
Limit fast food and junk food.
Offer water or milk instead of sugary fruit drinks and sodas.
Praise good choices
Limit sugar, save for special moments. Make it a "sometimes" food.