Developmental Concerns - Milestones!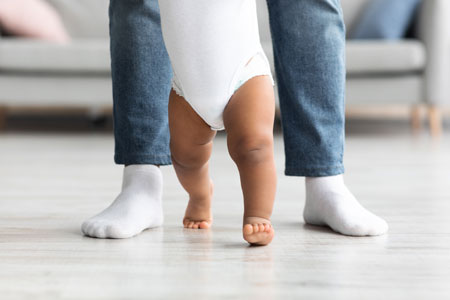 Developmental milestones are behaviors or physical skills seen in infants and children as they grow and develop. Smiling, rolling over, walking, and talking are all considered milestones. It's easy to be concerned when your child looks a little different than a sibling or peer, but there is a range of normal development. We are here to help you know if your child is keeping up, or might need some help. They are so important to us, we named the practice after them!
A "checklist" or calendar of developmental milestones may be helpful but is important to see through the lens of each individual child. At the same time, milestones can help to identify a child who needs a more detailed evaluation. Research has shown that the sooner the developmental services are started, the better the outcome. Therefore your provider will utilize developmental questionnaires such as the Ages and Stages Questionnaire and the MCHAT questionnaire to better identify patients with developmental delays or possible autism spectrum disorders. Examples of developmental services for those with delays include: speech therapy, physical therapy, and developmental preschool. Here in Wisconsin, we have a great Birth to 3 program and early referral can help.